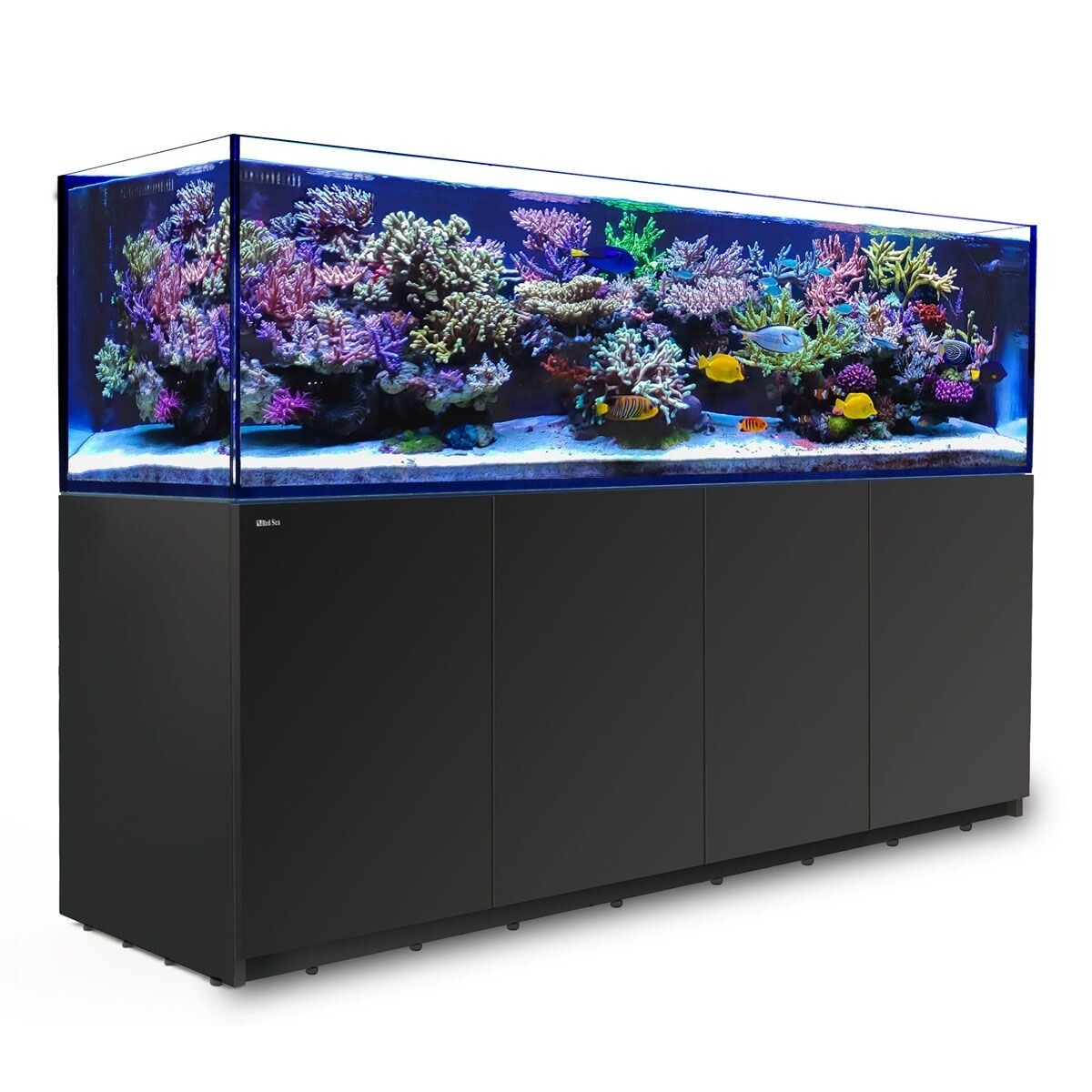 Red Sea Reefer 900 3XL Marine Reef Aquarium Black
SKU 14609
Product Details
Red Sea REEFER™ 900 XXXL System
Rimless reef ready systems for advanced hobbyists
REEFER™ Concept
Red Sea's REEFER series of reef systems provide advanced hobbyists with a solid foundation for building a fully featured reef or marine aquarium.
The REEFER series combines a contemporary, rimless, ultra-clear glass aquarium with a stylish cabinet and a comprehensive water management system including a professional refugium ready sump with integrated automatic top-up and Red Sea's unique silent down-flow system.
The REEFER series is designed for ease of operation while enabling the advanced hobbyist to install an unlimited choice of lighting, filtration, circulation, and controllers to create a uniquely customized system.
Features include:
Rimless, ultra-clear, beveled edge glass aquarium

Elegant, marine-spec, laminated, plywood cabinet with adjustable feet

Assembly-ready piping – no gluing required

Professional refugium ready sump with adjustable height skimmer chamber *

Silent, regulated down-flow system with emergency overflow

Integrated automatic top-up system with reservoir

RO liter reservoir that can be slid aside when necessary for pump maintenance. (not for 3XL900)

Micron filter bags and filter media cups *
REEFER 3XL 900
The REEFER™ 3XL 900 allows you to take reefscaping to another dimension. The 3XL 900 is 65cm (25.6″) high & wide, and 200cm (79″) long with a 900 liter (240 gal) capacity. This unit introduces an enlarged overflow box with dual side-facing return pump outlets that provides ideal water circulation in the tanks with flows of up to 10,000 lph/2600gph.
Go to the REEFER 3XL 900 Page >>
A unique feature of the 3XL 900 is a split sump system that provides unsurpassed flexibility. The main sump is set for the main filtration functions with an optional refugium chamber and a dedicated adjustable height skimmer chamber. The sump extension (60 liters/16 gal) can be connected to the main sump and used for additional filtration, as a larger refugium, or even as a dedicated frag tank. Alternatively, it can be set up as an independent unit and used as a full-size (83 liters/22 gal) RO reservoir or saltwater reservoir for automated water changes.
Watch the 900 beast video!
---
Red Sea REEFER™ Deluxe Concept
The REEFER™ Deluxe incorporates the ReefLED™ lighting units with Red Sea's custom mounting system into the REEFER reef-ready systems in a convenient single package.
At the heart of the ReefLED is a compact Led array that provides a reef-safe range of REEF-SPEC light through a single REEF-SPEC Blue (23,000 Kelvin) channel that consists of an optimum combination of ultraviolet, violet and blue LEDs and an 8,000 Kelvin white channel.
In addition, it has a separate dedicated 3W Moonlight channel to provide the low levels of light for reef-safe nighttime viewing.
The ReefLED includes a single optical-glass, hollow lens that creates a homogenous light, giving a dramatic coral coloration and a gentle shimmer throughout the aquarium.

ReefLED is controlled by Red Sea's ReefBeat® App which provides a wide range of easy to use functions such as random clouds, acclimation for new installations and a lunar cycle for the moonlights.
The custom mounting system attaches firmly onto the rear wall of the tank and can be rotated to the upright position during reef scaping or other tank maintenance. The REEFER™ Peninsula Deluxe comes with a customized hanging system for the ReefLED™ lights.
Go Behind The Scenes
Take a peek behind the scenes and see what goes into crafting a Red Sea aquarium.
---
REEFER™ Specification
REEFER™ aquariums are constructed from thick, beveled-edge, ultra-clear glass to support their elegant and modern rimless design.
The aquarium sits on a recessed base that "floats" it above the cabinet, which seamlessly follows the contour of the glass.
The marine-spec laminated cabinet that houses the sump, (and in the larger models also includes a dedicated, vented space for chillers) is smartly finished with weatherproof, epoxy-painted doors.
REEFER™ Water Management System
Removable surface-skimming combs surround the top of the centrally located overflow box that houses the downpipe, sump return pipe and the discreet multi-directional "eyeball" return outlet nozzle.
In the event of a blockage in the regulated downpipe, an additional emergency overflow pipe provides an unrestricted free flow of aquarium water directly to the sump.
On entering the sump the water passes through micron filters and/or filter cups with your choice of media before flowing into the optional refugium and onto the skimmer chamber with an adjustable height outlet, making it suitable for all skimmers and other reactors.
In order to remove any air bubbles that may have escaped from the skimmer, the water passes through a bubble-stripping cascade on its way to the return pump chamber.
To ensure a constant water level in the pump compartment, all REEFER™ sumps include an integrated automatic freshwater top-up unit, guaranteeing constant, stable water flow throughout the complete system.
Supplied as a complete self-assembly kit, all pipework is ready without the need for any gluing.
New and improved Refugium-Ready Sumps (except REEFER™ 170)
For all REEFER sumps click here.
REEFER™ 3XL Model
Specs
3XL 900
Main Features
Ultra clear front and side glass
✔
Ultra clear front glass thickness (mm)
19 (3/4″)
Enlarged in surface skimmer
✔
System Volumes
Display tank water volume (L)
720 (192 gal)
In cabinet sump water volume (L)
180 (48 gal)
Total system water volume (L)
900 (240 gal)
RO reservoir volume (L)
System Dimensions
Display tank length (cm)
200 (79″)
Display tank height (cm)
65 (25.6″)
Display tank width (cm)
65 (25.6″)
Total system height with cabinet (cm)
153 (60″)
Sump Dimensions

Water height (cm)
21-27 (8.3″-10.6″)
Skimmer chamber without Refugium wall (cm)
45 x 51 (17.7″ x 20″)
Skimmer chamber with Refugium wall (cm)
45 x 28 (17.7 x 11″)
Pump chamber (cm)
33 x 28 (13″ x 11″)
Extension sump (cm)
51 x 42 cm (20″x 16.5″)
Return Pump
3/4" threaded hose barb – Pipe Int. Dia
25mm (1")
Recommended flow (lph)
(pump not included)
10,000 (2640 gph)
Deluxe Series Model Features (not standard)
ReefLED™ 90
4 Units
360W
New
Special Features
Adjustable Height Skimmer Chamber
✔
Dual side-facing return pump outlets
✔
Split sump system
✔
Refugium Ready
✔
225 micron Thin-mesh Filter Bag
2
Filter Media Cup
2
Quick Release cabinet door hinges
✔
Heavy Duty levelable Plywood Cabinet
✔
FREE DELIVERY!!
Curbside Delivery Policy: We are happy to provide curbside delivery of your Red Sea tank, but want to make you aware of the limitations associated with this delivery option.
The crate is extremely large and heavy (Size and weight varies by unit but can approach 410 KG) and will not fit through standard residential doors, thus it typically needs to be opened and brought into the home piece by piece. The aquarium alone weighs 145 KG.
The freight company will have a liftgate and a pallet jack that absolutely cannot navigate over steps, stairs, grass or any obstacles and therefore can only guarantee placement curbside. The freight company will not assist with carrying the crate or it's contents into place. Please ensure you check all items to be in good order prior to signing, as a signed waybill indicates that the content was delivered in excellent condition and no claims will be recognised afterwards.
Save this product for later